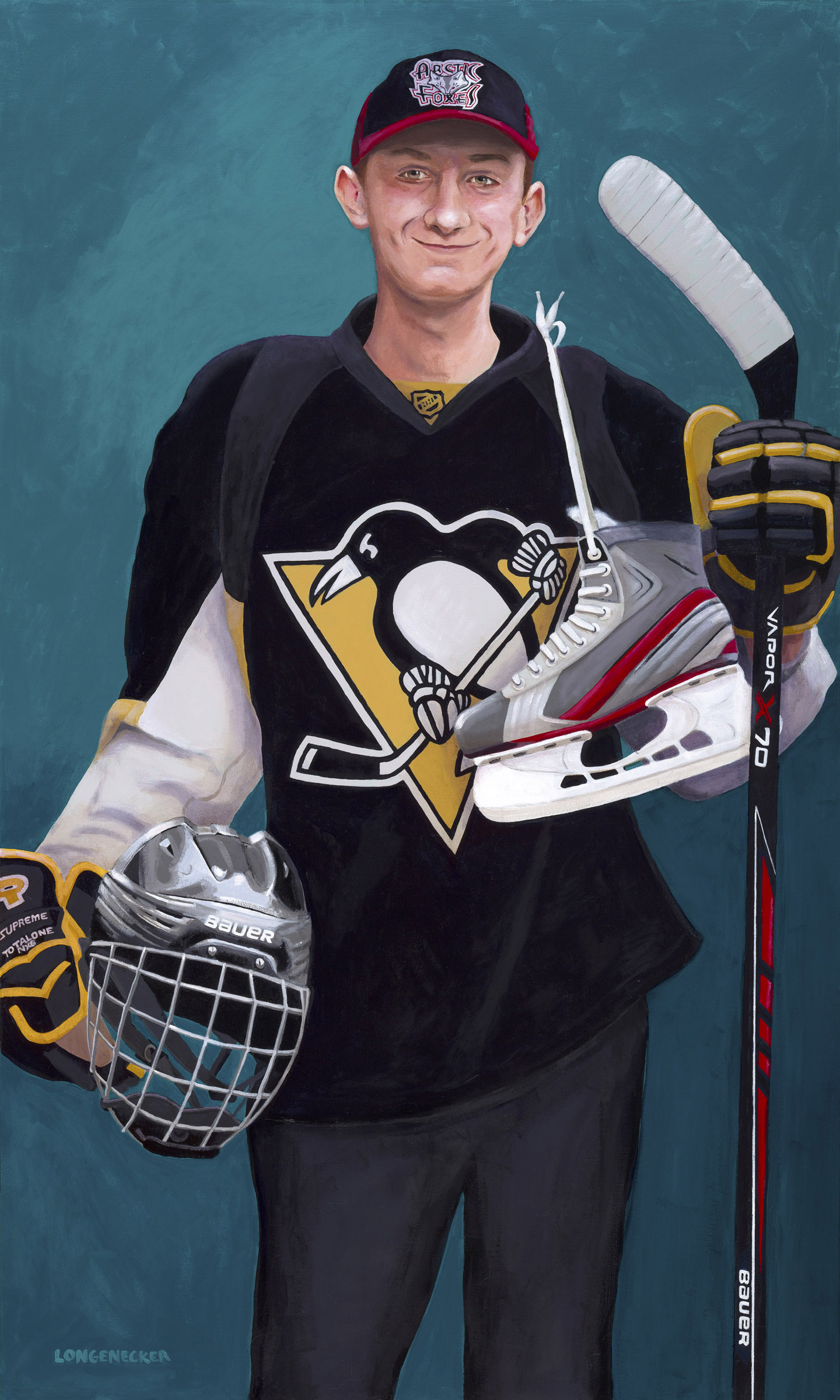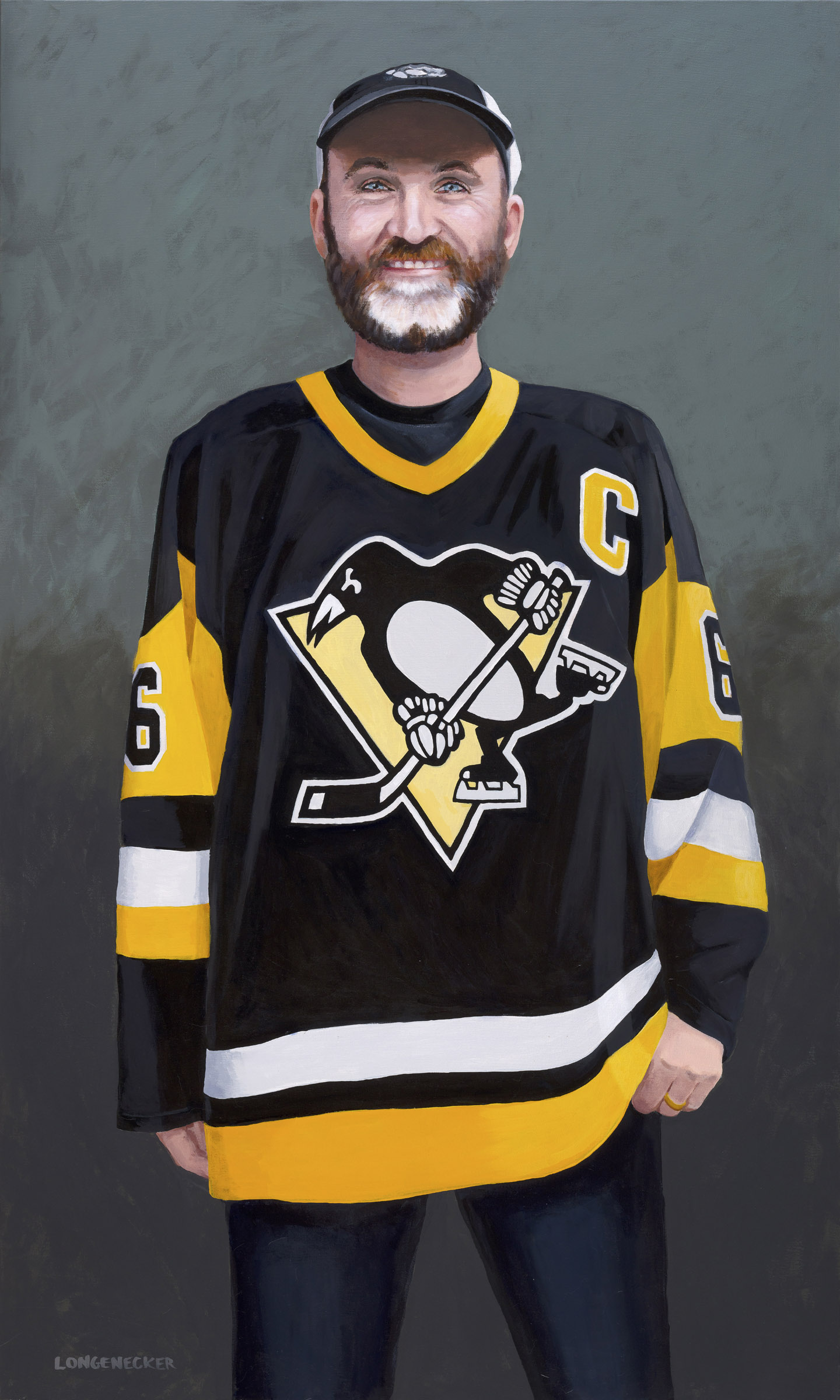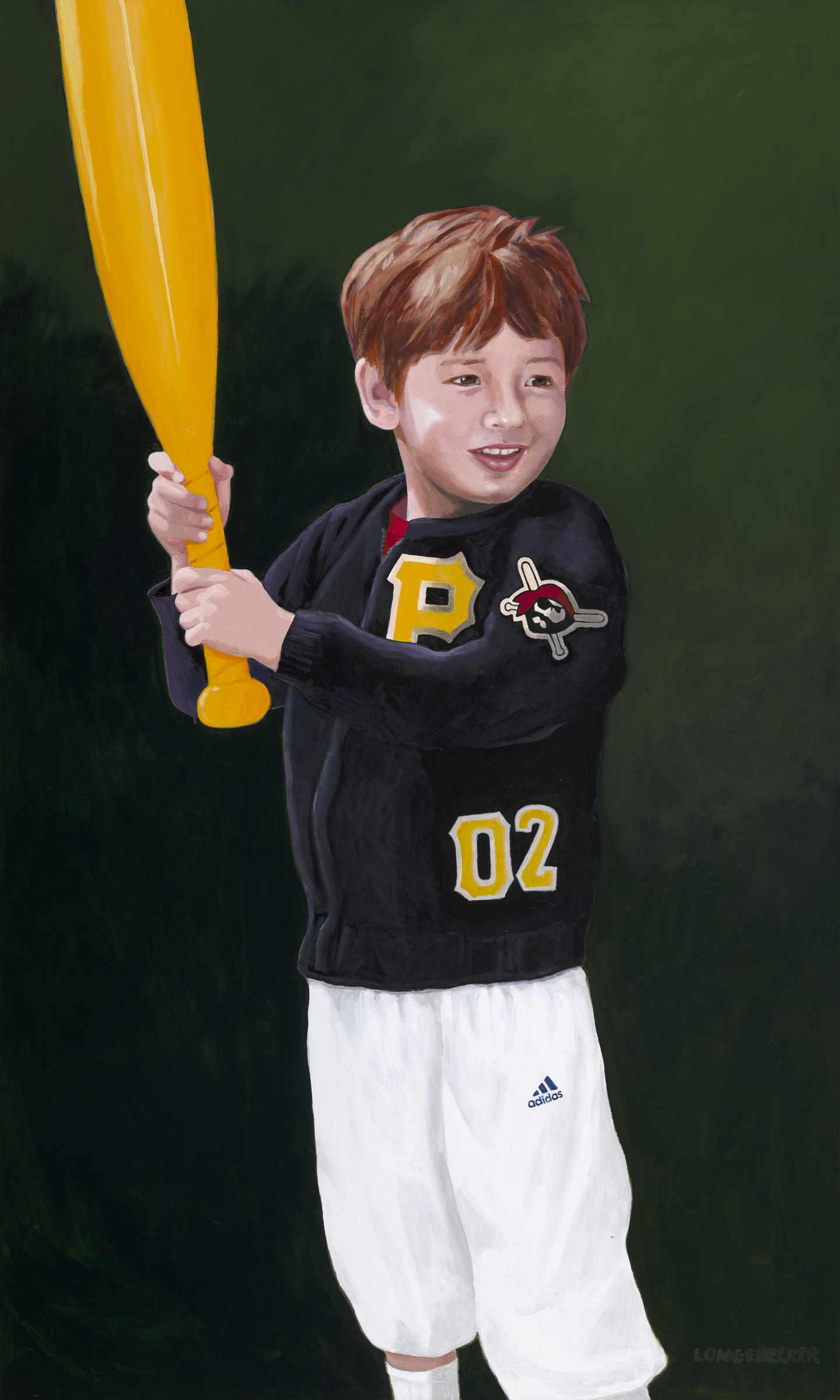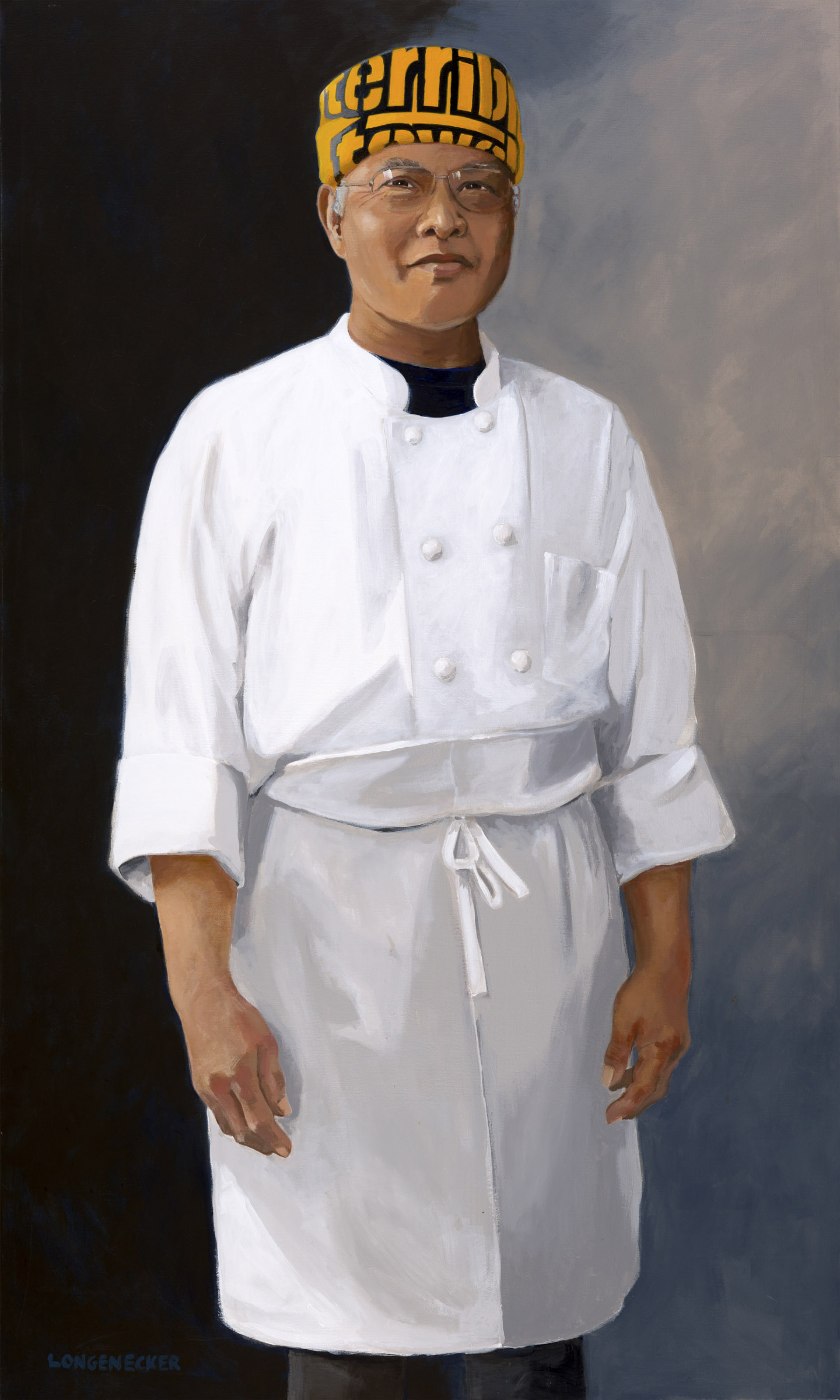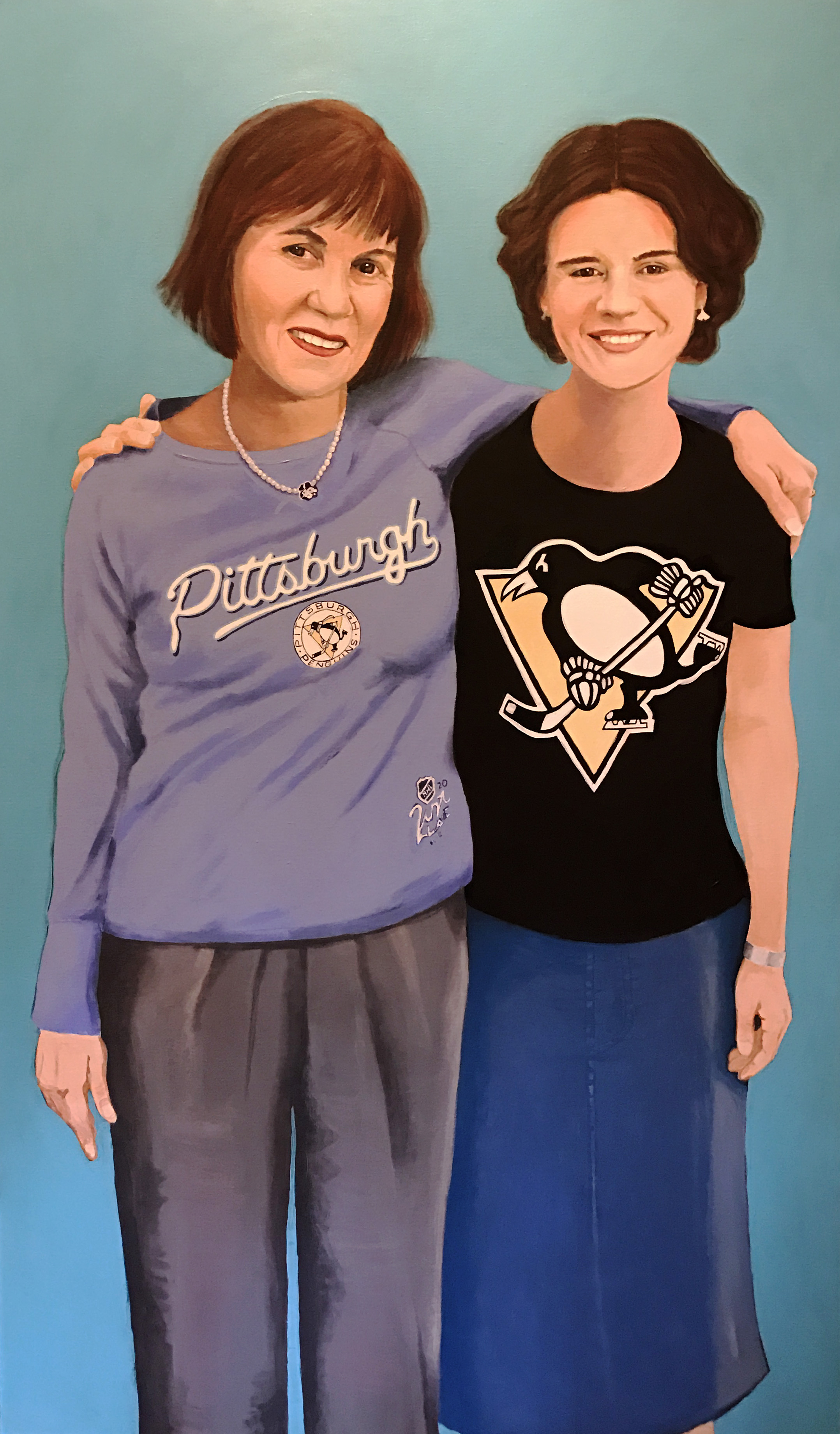 ANN
Ann is a retired travel agent and caterer. Besides her amazing grandchildren, her next love is rooting for the Pittsburgh Penguins. She frequently has neighbors over to watch the game and when a goal is scored you can hear cheers down the block!
36" x 60" / Acrylic and Oil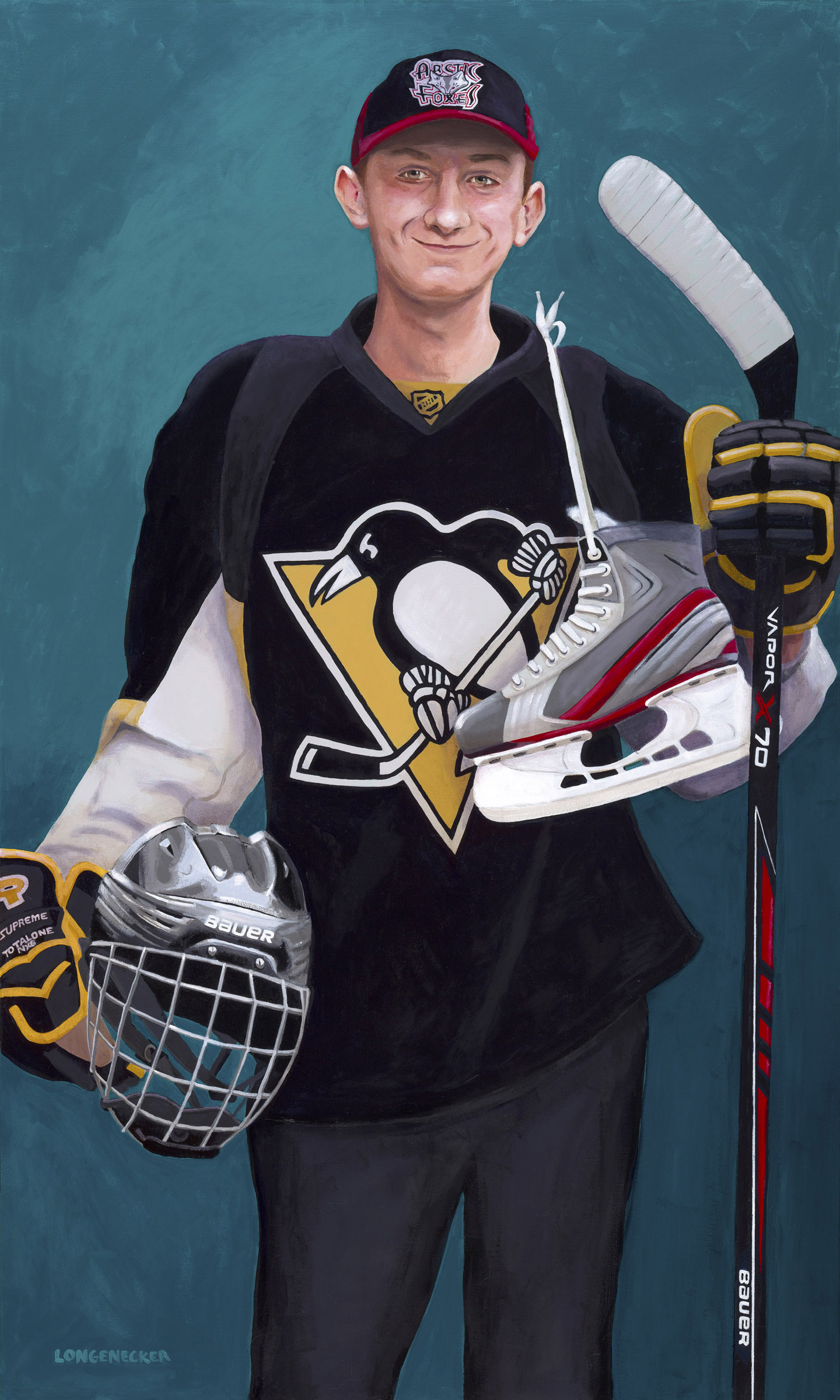 JACE
Jace is an accomplished player for his hockey team, and part of The Arctic Foxes Hockey Association on Neville Island. He is a BIG hockey fan, and is inspired by, of course, the amazing Pittsburgh Penguins.
36" x 60" / Acrylic and Oil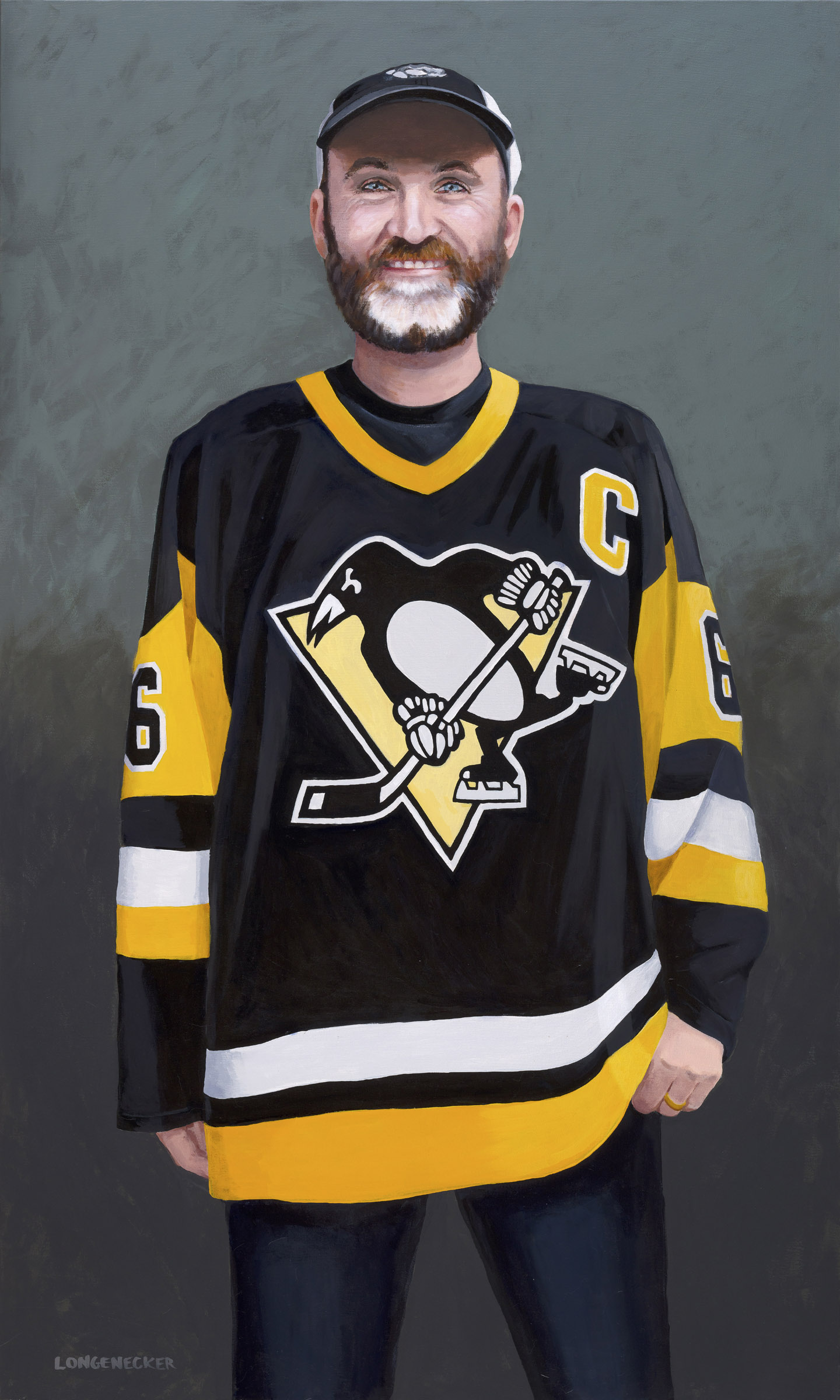 ROB
Rob is a speech pathologist and speech therapist. He is an avid Penguins fan. At the start of every season he grows a beard and doesn't shave it until after the playoff. A tradition is wife is not particularly fond of...
36" x 60" / Acrylic and Oil
MAE
I spotted Mae in Pet Smart while taking his two little kittens to the vet. At the time he was carrying a purse. I asked if I could include him in my series and, happily, he said yes.
36" x 60" / Acrylic and Oil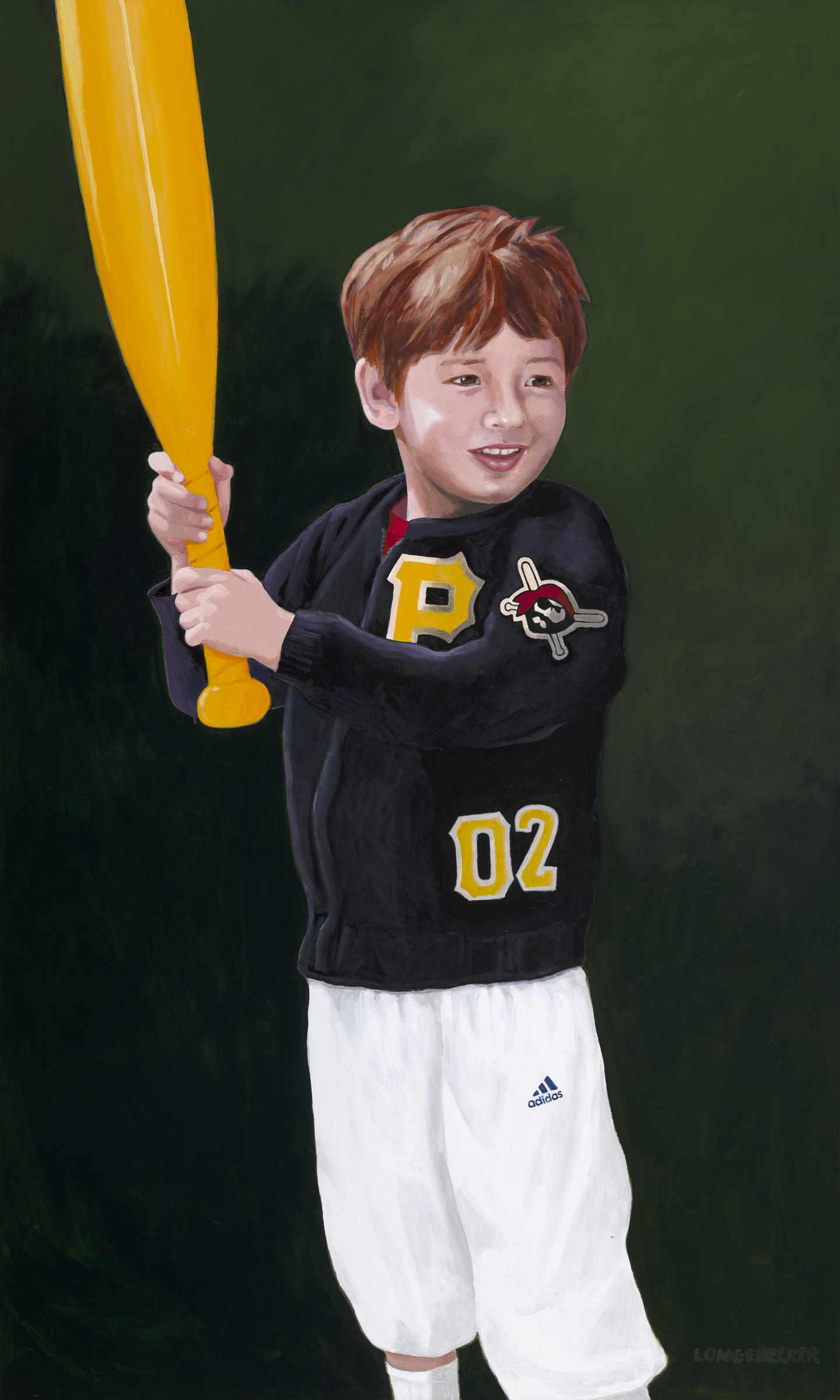 CLARK
Clark started "playing baseball" when he was 1 1/2 years old. It's his very favorite thing to do. Expect to see him a big-time lineup some day. (I'm not kidding!) Obviously he LOVES The Pirates!
36" x 60" / Acrylic and Oil
DENNIS
Dennis is a visionary. The Principal of Manchester Charter School Middle School on The Northside of Pittsburgh. A gifted teacher and mentor who is dedicated to making a profound difference in his student's lives and the world around him. He's a devoted family man and community leader. He's a also a Pirates' fan.
36" x 60" / Acrylic and Oil
STACY
Stacy is a psychologist and therapy counselor, with her own practice, in Pittsburgh. The love of her life is little Samantha who loves getting dressed up in her, and Stacy's, favorite teams colors.
36" x 60" / Acrylic and Oil
TEDDY & CHARLIE
The minute Spring hits, these brothers are out playing ball in the street and in their youth leagues. They are as sweet as they are talented with their gloves and bat! The are also experts of Pirates' statistics. Don't try to get anything past them!
36" x 60" / Acrylic and Oil
BILL
Bill is a handyman and craftsman who can do anything. He's a long-time fan of the Steelers and loves nothing more than sitting with family and friends watching the game! Well, OK...maybe he likes to go fishing with his buddies almost as much...
36" x 60" / Acrylic and Oil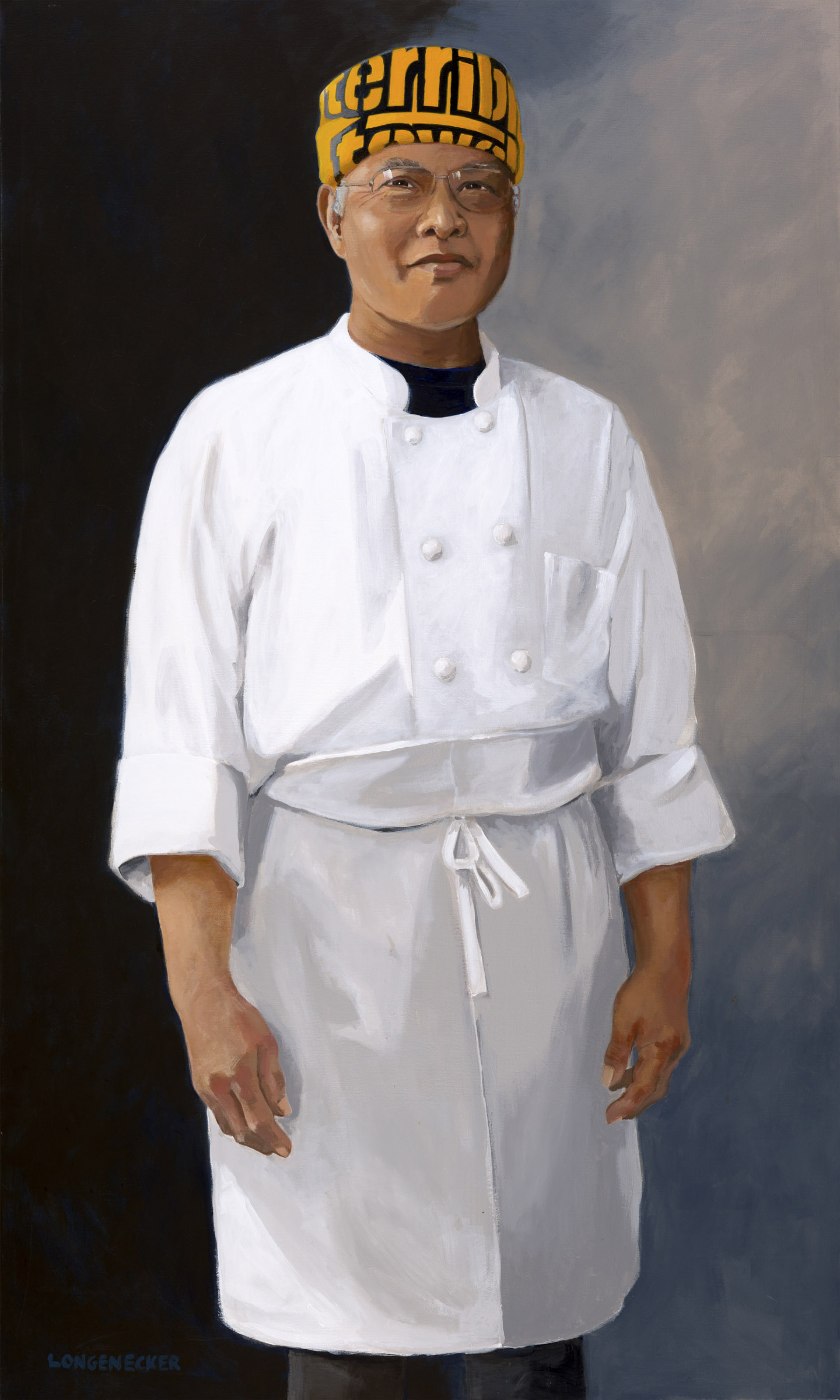 SIMON
Simon is a chef at the Silk Elephant in Squirrel Hill. While he prepares the most delicious Thai dishes in all of Pittsburgh it's fitting that he wears a Steelers"Terrible Towel" to keep him "cool" in the kitchen.
36" x 60" / Acrylic and Oil
MIA
Mia and her Dad never miss watching the Steelers games. Mia has become a big fan and loves to cheer on her, and her Dad's, favorite team. Mia's Mom is away in the Army right now. Hopefully she'll soon be home to watch the games with them.
36" x 60" / Acrylic and Oil
Dave
Dave is a feature reporter for the Uniontown Herald Standard and The Pittsburgh Post Gazette. He is a long-time, diehard fan of The Pittsburgh Pirates. Win or lose, rain or shine, he's rooting, with all his heart, for these extraordinary athletes, to "bring it home" to the "Burgh". Note the AUTHENTIC vintage cap placed over that heart!!!!!! BTW - cap - NOT FOR SALE!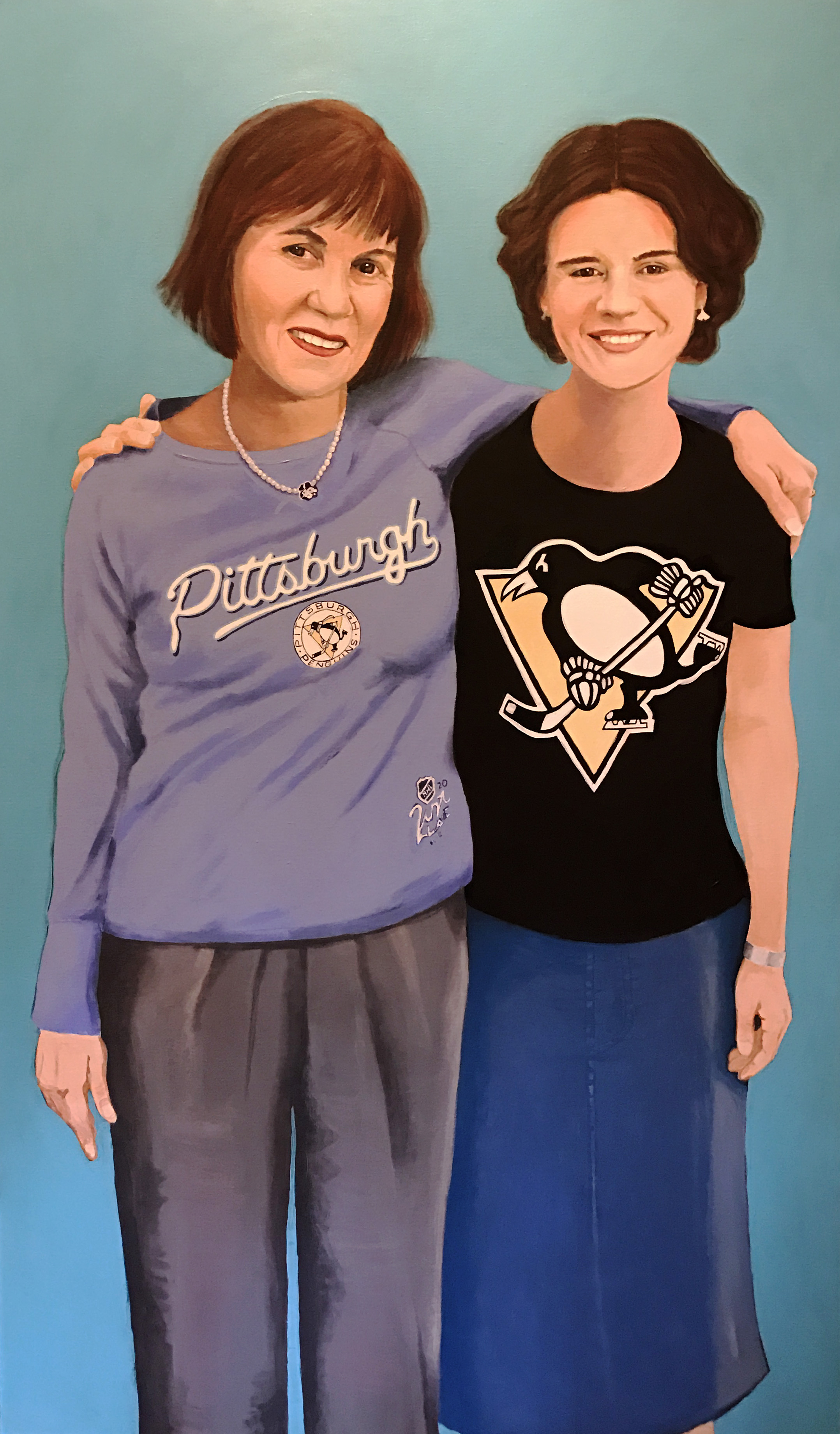 Mimi and Sanna
Mimi and Sanna, mother and daughter. Mimi, now a retired teacher, taught and inspired many students at Chatham College, Sanna is an advanced medical research student at Tufts in Boston. Mimi is a sports fan of all that is Pittsburgh. She can tell you the score of whatever Pittsburgh sport event is currently playing- or she is at the game!!!! She shares that love of sports with her amazing daughter. A truly brilliant pair!
PERI
Peri is an extraordinarily talented Internal Medicine Physician at UPMC Pittsburgh. She is also a hockey fan. Peri grew up in Canada -- so being a hockey fan came naturally. When she moved to Pittsburgh she and her family, naturally, became Penguin fans. She frequently "borrows" her sons' hockey t-shirts to show off her team spirit! A spirit, in some part, inspired by fellow Canadian and Penguin star, Sidney Crosby!!!!!
RABBI CHUCK
Rabbi Chuck Diamond is the rabbi at Tree of Life Synagogue in Squirrel Hill. He is a devoted Sports fan to all Pittsburgh sports teams. He was featured in an ESPN segment featuring how different religions integrate and celebrate sports in Pittsburgh. His congregates love him! Yes, that is The Terrible Towel in Hebrew!!!!
FELIX and CHARLIE
Felix and Charlie and their parents, of course, are devoted Pittsburgh sport fans. Charlie makes sure his younger brother, Felix, always has the correct sports jersey on for cheering on the current sports team of the season....loaning him and helping him dress in one of his own jerseys.
Scott and Ky
Scott is an extremely talented photographer and an amazing vet tech at Werntz Memorial Animal Hospital in Pittsburgh (my pets ADORE him). Scott loves bonding with his son, Ky, by taking him to Pirates' games. Towards the end of one game his son decides he would rather see the boats on the river outside of the stadium than see the end of the game. Bonding with his son is the most important aspect of their outing...so off they go. While looking at the boats, over the fence comes a ball. Boom. That is the ball featured in this portrait along with the joy of his son....and his great Dad.
CHARLENE, HELEN and ARETTA
JONI, GREG, BREEN, TEEGAN, SIMON